The Truth about Beginner Truck Driver Salary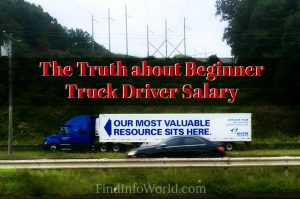 If you want the truth about beginner truck driver salary, this will help. Here is exactly what to expect as a beginner truck driver and how to optimize your time for maximum earnings.
Trucking can be very challenging for new drivers. Not only is it a major career move, it's also can be a major lifestyle change. In your first year, you are going to pay your dues.
The money will come along with your experience, so know that, and keep that in mind. Get your first year in, and you'll be on track to make the serious cash.
Beginner Truck Driver Salary
Just like most jobs, an entry level position is going to pay far less than the experienced positions does. Along with that, you will need to attend a truck driving school before you can get your CDL.
If you go through a company sponsored school who paid for your training, most of them require you to stay with the company for a year or more. If you leave the company before then, you'll have to pay them back.
So, what you should average as a beginner truck driver is $38,000 to $45,000 a year.
This depends on the company you drive for and how many miles per week you average. Then there are other factors such as safety bonuses, detention pay, stop pay, layover pay, and other accessorials.
If you pull hazmat, you may get some extra cents per mile. If you pull flat bed, you can expect to get tarp pay and other incentives.
There you go. Don't look at just one company, you have to compare the pros and cons. Also keep in mind that just because a company offers a high rate per mile does not mean they have the miles. Go talk to the drivers at the company you're interested in.
Arrange a tour of the company terminal if possible. Take trucking seriously, because it is a very serious profession. You will have people's lives, and 100's of thousands to millions of dollars of company product and property under your care and control.
Approach trucking like a professional and it will pay off in the long term.
Let me know your thoughts in the comments below. And, feel free to share this with your friends.
More Resources For You:
How To Choose the Best Beginner Truck Driver Jobs
Wish you could start your New Career off right?
Check out the Secrets the Trucking Companies Don't Want You to Know!

Did This Help You? If so, I would greatly appreciate it if you comment below and share on Facebook.
PS: If you haven't found a trucking company yet, or can't find more than 5 good ones, This resource will Help (and it's Free)
If you enjoyed this post about The Truth about Beginner Truck Driver Salary, retweet and comment please.