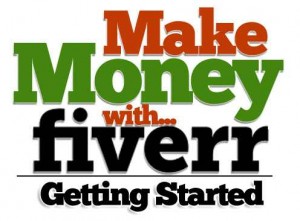 So how does Fiverr work? The process of signing Up is pretty simple and straight forward. However, I will cover that process in detail along with provide you with what you need to know if you plan to buy or sell gigs.
First of all, Fiverr is a website that offers the words largest marketplace for what is known as gigs at a fixed rate of five dollars. A gig is also known as a service or is even referred to as what is known as one fiverr. Whenever there is a seller offering a gig it will say "I will __ for five dollars." There are many categories to choose from. Within each category are sub-categories that have individual unique gigs that you may find interesting.
Fiverr is free to join and in order to either buy a gig or sell a gig you need to make an account. Once you have created an account, you'll receive an email that contains a link in order to be able to activate your account. After you have activated your account you can then create a gig and begin selling to people all over the world and or you can purchase one of the thousands and thousands of different gigs. If any assistance is needed you can always ask for help via Fiverr's customer support, they are always helpful and accurate and the wait is usually not that long.
If you want to purchase a gig on fiverr, you can look at what's available by searching the homepage of fiverr. You can also sift through the category page and/or subcategory pages. If you have an idea of exactly what you're looking for, you can just use the search bar and see if something comes up. Keep in mind that each and every gig is a base price of five dollars. Some gigs include "gig extras" which can cost extra money that you can purchase as well. When making a purchase there are several options to choose from in order to pay for it. There may or may not be a charge of fifty cents for purchases of ten dollars or less and a charge of five percent for purchases of more than ten dollars.
Making Money on Fiverr
If you're interested in selling on fiverr, there are several perks. The buyer of your gig has to pay for it in advance. For each five dollar gig that you complete and deliver, you'll get four dollars credited to your account. It's only four dollars because of the fee Fiverr charges you to use their service. The credit only comes through to you once the order is complete. Then once the order is marked complete, it takes fourteen days for the money to become accessible to transfer to your account. Fiverr does help you make money, and if you are a good seller you can build a decent flow of cash. However, keep in mind the length of time it takes to get access to your money.
With all that in mind, it can be a nice income stream for you once you get established. A top rated seller on Fiverr is sharing his secrets to earning a full time income from home with Fiverr working only 8 hours a week. Click here to get the full details.
Related articles