What Is The Deal With The Black Church Burnings?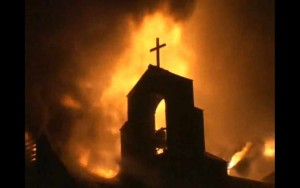 It's still unclear whether any of the fires are linked, and local officials' accounts of the fires do not support the sensationalist claims that "racists" are burning black churches.
Out of the six churches that have burned, only two have been confirmed as arson:
Knoxville, TN. seems to have been, according to police, a case of petty vandalism.
Charlotte, NC. has none of the hallmarks of hate crime, with the damage occurring in a youth area.
The church in Macon, Ga. is listed as possible arson, but police have said there is 'nothing to suggest malicious intent', ie hate crime.
The church in Warrenville, SC. had a fire, but it's still not known what the cause it. However, police cannot rule out an accident.
In Tallahasee, Fl. a church caught on fire, the local police declared it was most likely due to an electrical short. Another church in Gibson County, Tenn is actually a 'white' church that was struck by lightning.
So, no, there is little evidence to support the notion that a spate of 'black church burnings' has broken out because of the Charleston, SC shootings.
Related articles across the web