What Is Tommy Sotomayor Trying To Accomplish?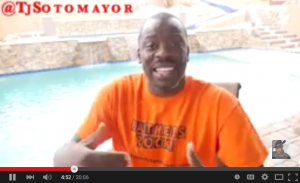 Tommy Sotomayor is an online radio talk show host and You Tuber that has come under alot of backlash in the past 3+ years. He is known for telling it like it is, regardless of who it may offend. Though his methods may be harsh to some people. His goal is to point out bad behavior in an effort to change it for the better.
He has criticized "Black" women for wearing hair weaves, fighting like men, being irresponsible with their children, and being poor judges of character when choosing a mate. He also does commentary on mainstream news topics where "black" men and women have put themselves in a position to be seen in a bad light. His critics viciously attack him and try to sabotage his efforts on a daily basis.
Their efforts to destroy him have only made him more popular. As they say, there's no such thing as bad publicity. Tommy Sotomayor's latest project is "A Fatherless America", it's a movie project that brings attention to the plight of fathers in America. It shows how society has come to see men as disposable resources and unnecessary to raise socially healthy and mentally strong children. This destruction of the family structure may be linked to the increase in crime and bad behavior throughout the country. You can view a trailer of the movie below.

To donate to the marketing and promotion of this film project >>CLICK HERE<< In conclusion, though his techniques, sharp language, and "in your face" attitude may be too much for some to handle. It's safe to say that his intentions are good. He is clear about his negative feelings about the bad behavior of some "Black" folks and the way they carry themselves in general. Those who disagree with his statements are open to debate him live on his nightly radio show. To learn more about Tommy Sotomayor and his upcoming events, visit Sotomayortv.com